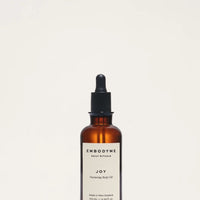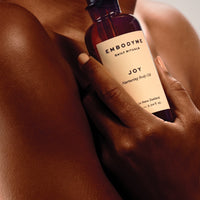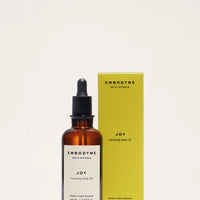 Slow down and take a moment for you with our nurturing body oil, JOY. Formulated with a luxurious blend of powerful plant-based oils, this oil quickly absorbs into the skin to deeply nourish and hydrate.  Immerse your senses in the our delicate JOY aroma, a certified natural fragrance, designed to evoke feelings of happiness and an uplifting energy.
An energising, citrus scent underpinned by the warm, woody notes of sandalwood that encourage happiness and unlifting energy
A combination of the most antioxidant, omega and vitamin rich skin-loving oils that deeply nourish and absorb quickly into the skin, including Golden Hemp Seed Oil, Avocado Oil, Flax Seed Oil and Grape Seed Oil.  Combined, this unique blends provides remarkable moisturising and anti-inflammatory properties, safeguarding your skin against environmental stressors whilst infusing it with nutrients that leave your skin feeling smooth, soft, supple, and hydrated.